Learn More & Apply for the 2018 REU Program
Look forward to the question: "What did you do this summer?"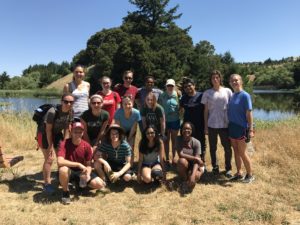 ReNUWIt has several openings for paid research internships during Summer 2018. Apply to spend 9-10 weeks this summer on a mentored, independent research project in areas such as:
Distributed Urban Water Systems
Energy-positive Wastewater Treatment and Resource Recovery
Direct Potable Reuse
Unit Process Wetlands and Riparian Zones
Smart Managed Aquifer Recharge Technologies
Distributed Stormwater Treatment Unit Processes
Decision Support Tools for Utilities
Visioning, Assessment, and Implementation Tools for Regional and Municipal Planning
Technology Diffusion Pathways
Please review the Program Details, Program Eligibility, and How to Apply (below) for further information.
Program Details
9 weeks, June-August (exact dates vary by campus)
Competitive stipend (~$4500; varies by campus) and travel allowance up to $600
On-campus housing provided
Work expectation of 40 hrs/week
3-day all-REU meeting at Stanford
Social and professional development events and activities
Program Eligibility
U.S. citizen or permanent resident (required by NSF)
Sophomore, junior or senior as of Fall 2018, graduating no earlier than December 2018
Attend U.S. college or university; preference to students from primarily undergraduate institutions and non-ReNUWIt campuses
Students from diverse groups traditionally underrepresented in science and engineering programs are encouraged to apply
How to Apply
1. Complete the online application form (http://ow.ly/u4jR30fObs8) by 11:59pm (Pacific) on Saturday, February 10, 2018. In addition to the online application questions you will be asked to upload:
Unofficial transcript(s) from all undergraduate institutions attended
Personal statement (1-2 pages) discussing:

Your educational background
Your professional goals
Why you are interested in the ReNUWIt REU program, and how it may help you attain your professional goals
Feeling stuck? See Pathways to Science's tips on writing high-quality personal statements.
2. You must also request letters of recommendation from two (2) referees. Your referees may be college professors who know you from classes and/or prior research experiences, current or former bosses, or other individuals who are well-suited to comment on your scholarship and character. Letters may be addressed to "Dr. Pam McLeod" and/or "ReNUWIt REU Program Selection Committee." Referees should upload letters on your behalf (http://ow.ly/36S630fO9Nc) by February 10, 2018.
Feeling confused? See Pathways to Science's tips on getting strong letters of recommendation.
If you have questions about the 2018 ReNUWIt REU program, please visit our REU FAQ page. If you don't find your answer there, contact Pam McLeod, pamelamc@stanford.edu.